Home and Gift Buyers Festival
Home and Gift Buyers Festival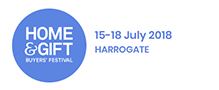 Hill Interiors are one the UK's leading distributors of wholesale furniture, home accessories, lighting, wall art, and clocks. We will be exhibiting at the Home & Gift Buyers Festival in Harrogate from the 15th - 18th of July 2018. Find us in Hall Q, stand KS10 where we will be showcasing an amazing array of new products for you to see.
We're looking forward to seeing you there!
Discover our Ranges

Discover Hill Interiors range of furniture and accessories.
5 Reasons to Join Us
Exciting new collections to be launched at Home and Gift Buyers Festival 2018
Over 2,500 products on display
Discover Fantastic Show Specials
Don't forget you also get complimentary glass of fizz on the stand
Take a look at some of our beautiful products...
The Home & Gift Buyers Festival is home to design led and traditional gifts, homeware and interior accessories. Hill Interiors are proud to be part of the Home and Gift Festival 2018. We have 100's of new products ready to reveal from bespoke furniture ranges to luxurious decorative accessories, with on-trend pieces to suit any interiors.
Very soon, it will be the Home & Gift Buyers Festival 2018 in the beautiful town of Harrogate. I am sure a lot of you already know, but we are lucky enough to call this place home. So, here is a bit of inside knowledge to let you appreciate some of the best things about the area and hopefully turn your day trip into a 2-3 day break! But first, let me give you a quick insight into why we would like you to visit us at this show.
Whereas previously we have just launched new products at the Spring & Autumn Fairs, we have had a change of plan and we will now be launching our new products monthly so we always have something new for you and your customers. The stand has never looked so different and beautiful - there are new furniture ranges, new accessories, new lighting that you haven't yet seen and the best thing...it's all bang on trend and in stock!
We always have a sale at Harrogate show and this year is no different. People love a bargain, and we have a range of goods that will be on sale. These will include new products reduced to get them onto everyone's shelves, older lines that we are all sick of the sight of to move on for peanuts and other great lines, that we just happen to be slightly over stocked on.
The Recipe Brand flowers have officially arrived and we have gone to town with the display for Harrogate. We won't spoil it and tell you what the theme is for Home and Gift, but it will probably be the most photographed display at the show and stick with you more than anything else you will see.
And...even though I touched on it, it is worth mentioning how much stock we actually have right now! Janis, our warehouse manager, is pulling any last few hairs he has out. For the first time ever, we have totally and utterly filled this place to the rafters. I'm sure as I drove out last night, I could see the warehouse pulsing as if it was going to explode! And (don't tell Janis), 34 more containers are due in between now and the show!

Get The Inside Knowledge On Harrogate
Things To Do While You Are Here...
Shopping in Harrogate is an exciting experience, move away from the high street and check out the more quirky store on Kings Road, Coldbath Road and the Montpellier Quarter.
If you are feeling flush, the brand new Spa at Rudding Park is to die for, book the Roof Top Spa Experience for ultimate luxury - the likes you have never encountered before! There is a 9 hole and 18 hole golf course too.
Take a walk through Valley Gardens which is quite simply the nicest place on earth. Continue your walk all the way to the end, then keep going across the road, follow the footpath through the woods and it takes you to the Royal Horticultural Society's Harlow Carr Gardens. Whilst you are there, you can have a lovely coffee and a Fat Rascal at the secret Betty's Tea Rooms at Harlow Carr Gardens, the same as the main one but with no queues!
Enjoy a lunch break at The Ivy (not forgetting mobile devices are banned and shorts/miniskirts are not deemed appropriate!). Sit back, relax and drink cocktails on the roof top of the new Gino D'Acampo Bar and Restaurant. Have dinner at La Feria, our Fabulous Andalusian Grill, be sure to book a table on the terrace if the weather stays like this! Have a drive out to the beautiful Fountains Abbey and Studley Royal Water Garden. One of the best preserved Cisterian Monasteries in England!
Where To Stay...
Nidd Hall Hotel is just a few miles outside of town, in the little village of Nidd (where England Manager Gareth Southgate lives, and yours truly was brought up!). It is a Warner Hotel where you have to book for 2 nights minimum, there are no children, but the whole place is amazing with a lovely pool and huge gardens. Plus, it's only 10 minutes from the show by car.
A little bit further afield, Masham is the beer capital of North Yorkshire, a very small picturesque town in the beautiful North Yorkshire Dales National Park, but despite its size, it boasts 2 epic brewery's! Theakston's and Black Sheep (the black sheep was Simon Theakston's brother Paul who ran off and set up a rival brewery!). Masham has a fabulous pub/restaurant with rooms called the White Bear, situated in between the two breweries, where you will not get a fresher pint anywhere! This spot is about 25 minutes into the centre of town, so an easy drive.
Aldwark Manor is a lovely spa hotel with golf course set in the little village of Aldwark near Boroughbridge. It has quite a nice spa and a small golf course but if you are staying here, don't eat dinner in the hotel. Go to either The Ship Inn at Aldborough or The Aldwark Arms, which I can both strongly recommend!
If you have to stay in town, the only bearable places are the Hotel Du Vin, The Crown and The Studley, of which I have stayed in them all, and they are all on a par.
Places To Eat...
As well as the aforementioned, there are a couple of belters in and around the area. On Coldbath Road there is a restaurant called William and Victoria's. Try and get a table downstairs though, which is bistro style dining as opposed to more of a bar upstairs. The food is hearty and they have an excellent choice of wine. If you can't get in, try and book for next year now!
A lot of you will know about this place, but the Thai Orchid just past the council buildings produce the nicest Asian food I have ever tasted, the chef used to be head chef at the Dorchester in London, which shows the standard you can expect. Try the Singapore Crispy Prawns with the oriental mayonnaise and the Sichuan Bang Bang Chicken.
Top Tips For Your Visit...
Shhh, not supposed to tell but...park up at the Cairn Hotel for free and walk 100m down to the show to avoid shuttle bus or heavy parking fines.
Remember to visit the Hill Interiors stand first, as our stock is allocated on a first come first served basis and despite the fact we have now got more stock than we ever have, it's nice to get first pick!
We look forward to seeing you at the show!