Showroom

OUR SHOWROOM IS OPEN - DON'T MISS OUR CASH AND CARRY SAVING***✨
Come along and be inspired by our showroom which highlights our extensive collection of products including furniture ranges, lighting, accessories, faux flowers and more.
Hill Interiors showroom is the ultimate place to fill you with interior inspiration, complete with 15 freshly redesigned rooms bursting with over 1,500 products. This is the perfect opportunity to browse our collections first hand and to see and feel the quality of our items too.
You can count on a warm Yorkshire welcome, complete with refreshments and a beautiful relaxation area to sit back and consider your purchases. Our sales team will be on hand to chat all things interiors and assist however they can.
*** In the current situation, we are stocked up with hand sanitiser and are asking everyone to constantly wash their hands. However, we appreciate that a lot of customers will not want to visit at the moment, so we are passing on our Cash & Carry 10% discount to all customers placing orders online and paying for them there and then just like you would at the showroom, using promotion code CASHCARRY10. Simply mention input this code at checkout or mention it when placing an order with our sales team.***
Discover our Ranges

Discover a selection of ranges available at our showroom.
Visit God's own country
Directions:
From the South: Continue on the A1 motorway until the A61 exit for Ripon/Thirsk (Junction 50). Take the slip road off the motorway and on the roundabout take the second exit, the A6055. Continue along that road for approx 2 miles and go straight over the B6267 roundabout/junction. Continue along the A6055 for another 2 miles until you see the Hill Interiors sign.
From the North: By approaching us on the A1 southbound you will need to exit the A1 on the A684 Northallerton/Bedale junction (Junction 51). Go to the roundabout and turn right which takes you underneath the A1. At the next roundabout take the second left onto the A6055. This is the A1 service road. Continue on this road for approximately 4 miles (past Londonderry & RAF Leeming exits). Hill Interiors is just a few yards past the Burneston exit on the right hand side.
5 Reasons to Visit Us
See over 500 brand new lines launched this Spring
Next day delivery and cash and carry available
Refreshments to be served
Chat with a member of our knowledgable team
Access regular showroom offers
Accommodation Available
Make the most of your visit and stay in Ripon. 'Stay awhile amid its ancient charms,' is the polite, old-fashioned invitation on the signs that welcome visitors to Ripon. It's an understated greeting that neatly sums up the subtle pleasures of this north Yorkshire city.
Our Showroom
Hill Interiors showroom is the ultimate place to fill you with interior inspiration, complete with 15 stunning rooms bursting with products. This is the perfect haven to browse our collections first hand whilst seeing and feeling the quality of our items too. Complete with tea, coffee and a glass of fizz on demand, a stunning new velvet relaxation area to sit back in and plenty of reps to chat all things interiors with you along the way.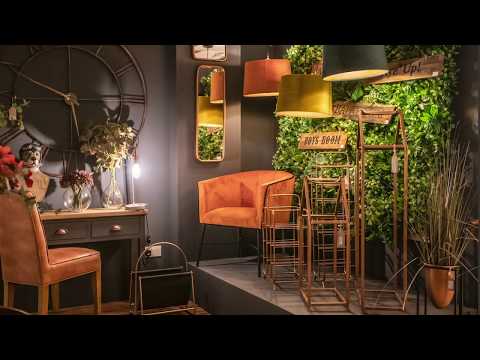 Our Showroom & Exhibitions Gallery
The showroom lies just off the A6055 (The A1 service road) near Burneston in beautiful North Yorkshire, nestled between the North Yorkshire Moors & Yorkshire Dales National Parks. A visit to us could even be coupled with some magical leisure opportunities that are available within a couple of miles, there are many fabulous pubs and beautiful walks.
Why not make an appointment with your rep to discover our best sellers and the best lines for you, or call us to arrange accommodation for your visit.
Usual Opening hours:
Monday - Thursday 09:00am - 17:00pm
Friday 09:00am - 16:00pm
(Currently closed weekends)